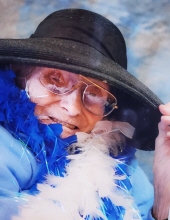 Obituary for Margaret "Peggy" Skarsten
Margaret Virginia "Peggy" O'Donnell Skarsten crossed peacefully to her Lord on Monday, July 29, 2019 thirteen years to the day after her beloved husband Paul. Peggy was born on October 20, 1924, the last of eighteen children of Irish immigrants Edward O'Donnell and Mary Loftus O'Donnell. Peggy attended Kate Fratt primary school and Billings High School, graduating in 1942. While still in high school, she began her love for softball where she soon rose to the top of her game. A left handed pitcher, Peg was a standout and twice played in national fastpitch tournaments including at Detroit in 1941 and Phoenix in 1947 with the Montana state champion Bridger Cafe.

Peggy married Paul Skarsten on June 16th, 1948 and they made their home in Great Falls, Montana where they lived until his passing in 2006. She then moved back to Billings to be closer to family. Peggy and Paul were avid golfers and, as with softball, she quickly rose to the top of her game. They traveled Montana playing in many golf tournaments and winning many awards and trophies. Peggy twice aced the #4 hole at the Meadowlark Country Club. She loved to bowl and during her years in Great Falls won many awards, pins and trophies. She loved playing cards and games with friends and family and was the life of every gathering with her signature contagious laughter.

In 1987 Peggy was inducted into the Individual Softball Hall of Fame in Billings as a pitcher, outfielder and first baseman. In 1999, in Lewistown, she was inducted into the Montana Softball Hall of Fame and, in 2001 she received the Pioneer Women in Sports Award. She joined Hall of Fame brothers Doug (Montana Rodeo) and George (Montana Officials Association).

Peggy was preceded in death by her parents, Ed and Mary, her husband Paul; brothers and sisters – John, Edward, Delia (Sis), James, Irene, Marion (Dewey), Charles Douglas, Marguerite, George, Audrey, Lewis, Thomas, Neil, Helen, Bill, Bob and Ray. She is survived by many cousins, nieces and nephews. She was especially close to Jack Oberweiser, with whom she was raised and considered a brother, and his wife Carol and their kids; Shirley Schroeder Michael; Ray and Patty O'Donnell Dietz; and Chuck and Roberta O'Donnell Hensley, with whom she enjoyed so many special occasions.

Funeral services are pending.
Events
Event Information
Services will be set for a future date to be determined.